The Eye Bach Choir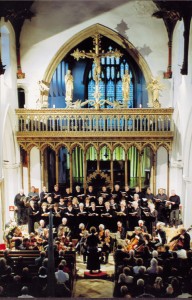 The Eye Bach Choir was founded in 1974 by Merlin and Ann Channon. It has nearly fifty singers and a tradition of excellent performance. Although we honour J.S.Bach in our title, our repertoire covers works from the sixteenth to the twentieth century. It ranges from Byrd to Britten and Tippett; from Bach, Handel and Mozart to Mendelssohn and Brahms as well as Monteverdi, Pergolesi and Vivaldi.
We engage professional soloists and when required bring together the Eye Bach Choir Orchestra consisting of prominent local musicians and teachers several of whom have been with us for many years. "The Eye Bach Choir is sociable, highly articulate, and has a wonderful spirit!" says our founder.
Come to one of our concerts, or better still come and sit in at one of our rehearsals, and find out for yourself – we always welcome new faces!
www.eyebachchoir.co.uk
Church Shop

It is not such a rare thing these days to find a shop inside a Church building, but it probably was quite a radical move when Eye Church Shop was first opened over 25 years ago. The shop has always opened using volunteer help – and the passion to keep it open has waxed and waned over the years.
Development Appeal
We have completed the installation of the majestic J. J. Binns organ. Thanks to our supporters and the tremendous skills of the organ builders, E. J. Johnson & Son (Cambridge) Ltd, our dream has at last been realised! Our fund-raising for this stage of our campaign is now complete. Watch this space for details of our plans for the next Phase in our Development Programme.